How to register your resume?
Registering your resume with MyWorld is simple. Just click on Register in the Job Seekers menu, fill in your details and upload your resume. This should only take you about 30sec, but it even quicker if you register with your LinkedIn profile.
​
Searching and Applying for Jobs
Applying for jobs is simple, just follow these steps;
Using the search box on the Job Search page, as well as filtering the job categories from the Business Sectors, you can search easily for roles that may be potentially suitable for you.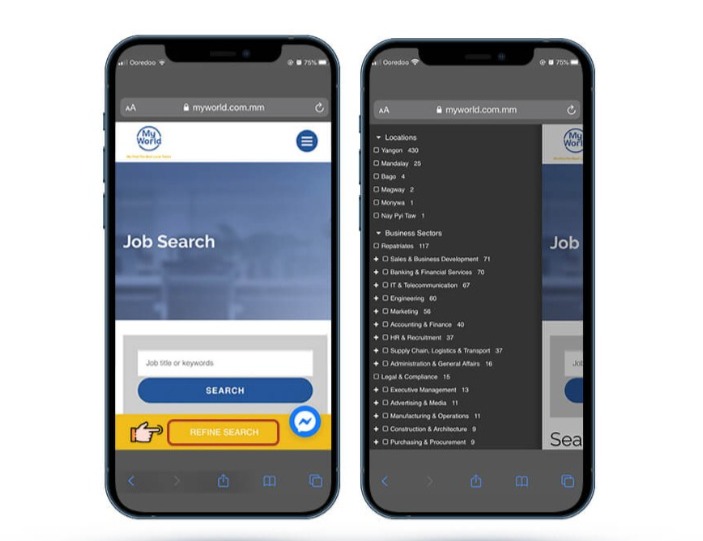 When you find a job that looks interesting, click Read More to expand the details and learn more about the position and responsibilities.
When you find a role you want to apply to, click on the Apply button next to the job.

Attach your resume (you can do this from your MyWorld profile or from your desktop).

Write a cover letter (follow the steps set out in at our Resume & Cover Letter section) in our simple to use format, or upload one from your desktop.

Click on the Apply Now button.
If you find a job you are interested but wish to review it later, you can always add it to your Saved Jobs list by clicking on the Star symbol at the right side of the advert.
​
Creating Job alerts
We want to send you alerts when we have new jobs that match with your profile. Fill your email address in "Get similar jobs like these by email" section and click Create alert to receive job alert from us. Make sure you register jobalerts@myworld.com.mm in your contacts so our emails do not get sent to your Spam folder.
When you receive an alert for a job that interests you, follow the process below;
Click on the Apply button next to the job you have selected

Attach your resume (you can do this from your MyWorld profile or from your desktop)

Write a cover letter (follow the steps set out in at our Resume & Cover Letter section) in our simple to use format, or upload one from your desktop

Click on the Apply Now button